Diary and Events
Hospitality
Our premises are used for a wide variety of community and family events from meetings of the Parish council to Birthday parties.

By the creation of a Prayer Garden & Quiet Space at the side of the Church building that is open to all to pray or simply to sit and reflect.
Fourth Friday provide supper and a speaker to spark interesting conversation about important matters. They run from October to spring, excluding December.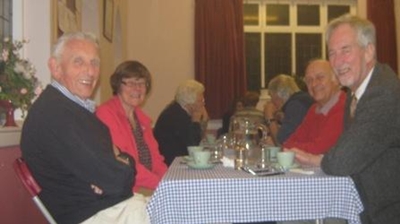 The evening begins at 7:15pm with supper, followed by a speaker and Q&A from 8.00 - 9.00 pm. Catering reservations to Briony Newport on 01865 246497 or secretary@cumnorurc.org.uk. No charge but donations accepted.
2019/2020 programme
Thursday, 24 October 2019: Jackie Holderness, Christ Church Cathedral Officer and author of the picture book 'The Princess who hid in a Tree', "Frideswide of Oxford: Princess, Healer, Saint"
Friday, 22 November 2019: Robert Higgs, "Tales and adventures of a travelling salesman - but is what you hear true. You decide".
Friday, 28 February 2020: Tony Bradley, "My grandfather, Missionary in China 1882-1923". An illustrated talk
Friday, 27 March 2020: Marie Ruiz, "Oxford, Origins of the City and University"
Friday, 24 April 2020: Colin Burnie, (subject: Tracing one's ancestory - title tbc)
---
Click to enlarge the photos