Diary and Events
Hospitality
Our premises are used for a wide variety of community and family events from meetings of the Parish council to Birthday parties.

By the creation of a Prayer Garden & Quiet Space at the side of the Church building that is open to all to pray or simply to sit and reflect.
Fourth Friday provide supper and a speaker to spark interesting conversation about important matters. They run from October to spring, excluding December.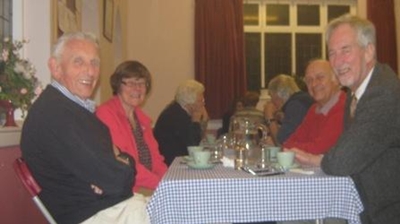 The evening begins at 7:15pm with supper, followed by a speaker and Q&A from 8.00 - 9.00 pm. Catering reservations to Briony Newport on 01865 246497 or secretary@cumnorurc.org.uk. No charge but donations accepted.
Our 2018-2019 theme is a continuation of the successful 2017-2018 theme "Places of Interest".
2018/2019 programme
Friday, 26 October 2018: Heather Rosser - "Growing up in the Mandara Mountains of Nigeria"
Friday, 23 November 2018: Dr Malcolm Graham - "The History of the Covered Market: Buildings and People"
Friday, 22 February 2019: Martin Harris - "Nuffield Orthopaedic Centre: A History"
Friday, 22 March 2019: Nigel Appleton - "From sowing to reaping: the story of a school teacher, her pupil and the Hope & Faith Christian Community School, Zambia".
Friday, 26 April 2019: Lesley and Tony Legge - "Abingdon, our oldest town: Civic and Town Crier Memories".
---
Click to enlarge the photos