Diary and Events
Hospitality
Our premises are used for a wide variety of community and family events from meetings of the Parish council to Birthday parties.

By the creation of a Prayer Garden & Quiet Space at the side of the Church building that is open to all to pray or simply to sit and reflect.
Fourth Friday provide supper and a speaker to spark interesting conversation about important matters. They run from October to spring, excluding December.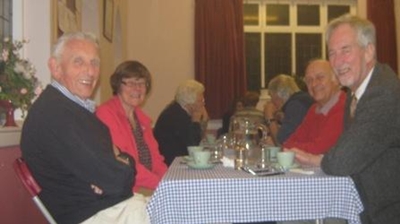 The evening begins at 7:15pm with supper, followed by a speaker and Q&A from 8.00 - 9.00 pm. Catering reservations to Briony Newport on 01865 246497 or secretary@cumnorurc.org.uk. No charge but donations accepted.
Our 2017-2018 theme is "Places of Interest".
2017/2018 programme
Friday, 27 October 2017: Stephen Dawson - "Oxford Preservation Trust - Opening Doors all year round". 2017 is their 90th Anniversary.
Friday, 24 November 2017: Anna Stevens - "Ark to Ashmolean". 2017 is their 400th Anniversary.
Friday, 23 February 2018: Frank Collingwood - "Oxford Bus Museum". 2017 is their 50th Anniversary.
Friday, 23 March 2018: Laurence Waters - "The Great Western Society and Didcot Railway Museum". 2017 is their 50th anniversary.
Friday, 27 April 2018: Tony Probitts - "Col. Raymond ffenell and his amazing land bequests to the community". One of the founders of Oxford Preservation Trust.
---
Click to enlarge the photos